With this 100% custom web based software you will have all the products information in one place, in a flexible and easy to use interface. Even if you have thousands of products, or if your product portfolio cover millions of items, the products management tool we will develop will suit your company in the best possible way. We will built exactly what you need, without restricting you out from technical reasons. You will receive a dedicated tool for your product management system.

READING THIS MATERIAL YOU WILL FIND ANSWERS TO FOLLOWING QUESTIONS:
will I have easy access to detailed information about product database from any location ?
can I integrate my product database with my ERP ?
can I easily find any product even if I have a very large database ?
will the application be accessible from my mobile phone ?

ALL DETAILS ABOUT YOUR PRODUCTS

Each product can be defined having the most simple or the most complex details:
Image gallery

Technical information

Category assignment

Product short and advanced description

Packaging information (units per case, units per container etc., weight etc.)

Price ranges (depending on price levels) – please also see "Price Management" solution described below

Stock information (on one ore more depots) – please also see

"Inventory M

anagement"

solution described

below

Offers where the product has been used

Success rate in offers for each specific product

Unavailability alert: when a product is often searched and has no stock available on most of the searches

Acquisition cost

Library of catalogs (in any format – pdf, zip etc.)

Any other information you may need
CLICK on the picture below for SCREENSHOTS !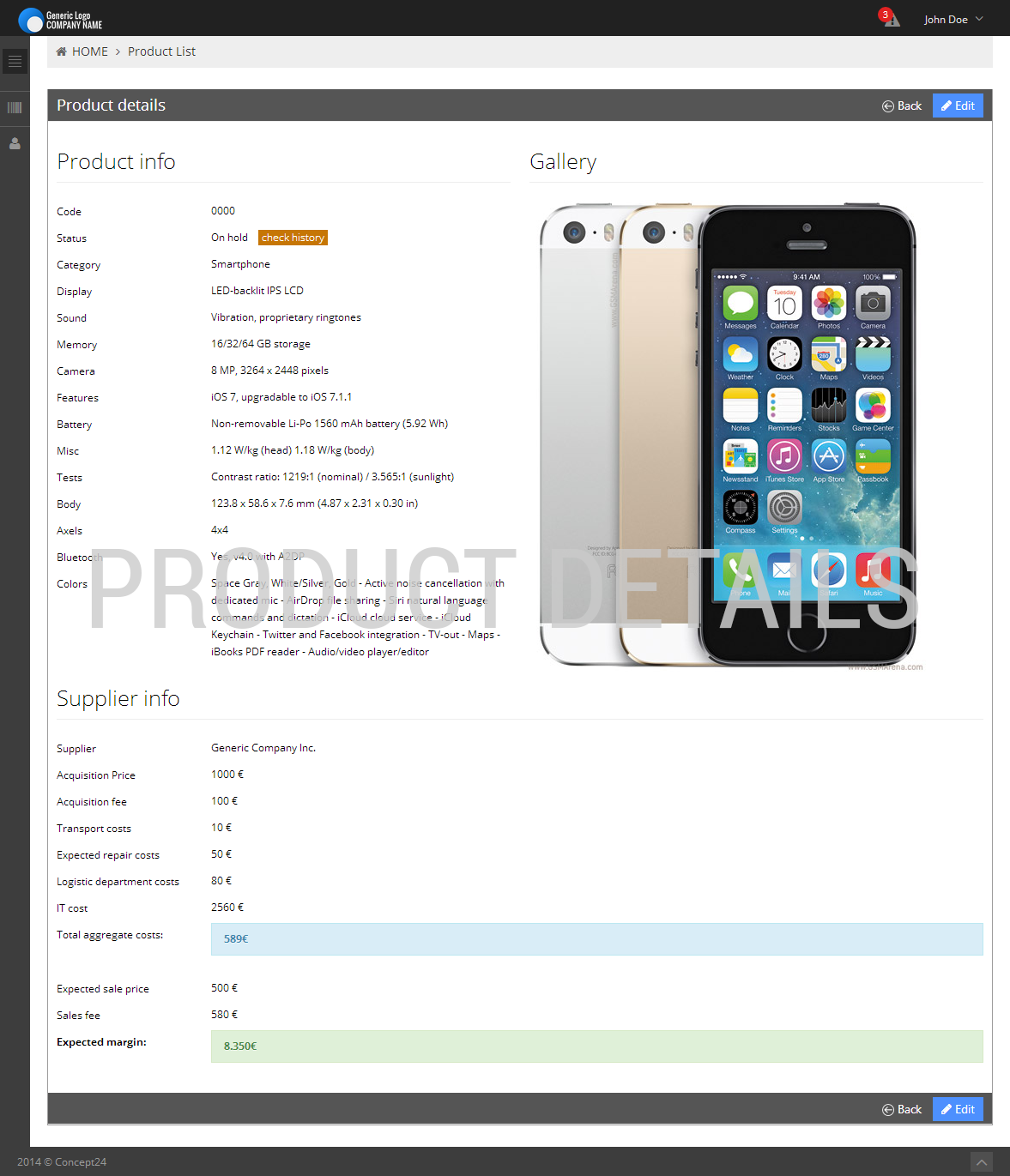 ADVANCED SEARCH OPTIONS

We can develop simple to advanced search engines for your product database, that can be customized for each category. The product lists are easily accessible by filtering information:
By name

By price

By product category

By market segment

By date entered in stock

By date used in offers

By stock availability

By product responsible

By technical information
CLICK on the picture below for SCREENSHOTS !


The business application will have responsive design:





SYNCHRONISATION WITH ERP

The product database can be synchronized with your inventory software or current ERP (SAP, Oracle or any other provider). The product information which cannot be added in your current application can be easily managed into the applications developed by us.

INTEGRATION WITH WEB SITE

The product database can also appear on your website. You can establish the information you want to show to the visitors (what type of prices, stock level information or any other information managed into the application).
Any dedicated REPORTS can be created for the top management or the application users. This way, you will have a performant product management system.

The software is web based developed in PHP, using a modern MVC Framework. Entire code and source files will be yours, allowing you the possibility to update the application at any time.

The PRODUCT management software can be used in relation with other solutions for following business areas:
The custom business applications are the best choice. They will perfectly fit your business!
Don't hesitate to contact us for a free evaluation. Send us a brief description of your project and we will get back to you with a dedicated solution for your product management system and a budget estimation.
Does one of you business partners need our solution ? Share it or send it per email!